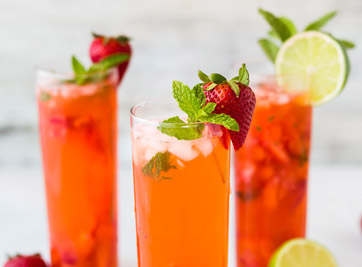 Identifiers
FD&C Yellow No. 6
INS No. 110
E 110
EINECS No. 220-491-7
CAS No. 2783-94-0
CI Food Yellow 3
CI No. 15985
Physical Description
Sunset yellow FCF is a synthetic yellow dye that provides a reddish-orange shade in applications. Sunset yellow is principally the disodium salt of 6-hydroxy-5-[(4-sulfophenyl)azo]-2- naphthalenesulfonic acid. The trisodium salt of 3-hydroxy-4[(4-sulfophenyl)azo]-2,7- naphthalenesulfonic acid may be added in smaller amounts.
Common Uses
Sunset yellow provides an orange color when used in foods, drugs and cosmetics. Sunset yellow is used to color many different types of foods including cereals, snack foods, baked goods, gelatins, beverages, dessert powders, crackers, and sauces.
Specifications
JECFA (2011)
US FDA
Commission Regulation (EU) No 231/2012
Codex GSFA Provisions
Sunset yellow FCF is added to foods and beverages at concentrations up to a maximum permitted level (MPL) as established by the Codex Alimentarius Commission and published in the General Standard of Food Additives (GSFA). For a full list of GSFA food categories and max levels for of Sunset yellow (INS No. 110), click here.
Regulatory Approvals
Safety Assessment
JECFA most recently evaluated Sunset yellow FCF in 2012, noting at that time that there were five additional long-term repeated dose feeding studies that tested Sunset yellow FCF at dietary concentrations equivalent to doses of 7500 mg/kg bw per day in mice and up to 2500 mg/kg bw per day in rats. One of these long-term studies in rats, which included in utero exposure, had a no observable adverse effect level (NOAEL) of 375 mg/kg bw per day for reduced body weight among pups. On the basis of this NOAEL and the usual 100-fold uncertainty factor, the Committee established an acceptable daily intake (ADI) of 0–4 mg/kg bw. The previous ADI of 0–2.5 mg/kg bw was withdrawn. The Committee concluded that the dietary exposure of children to Sunset yellow FCF does not present a health concern.
Safety Reviews
JECFA (Joint FAO/WHO Expert Committee on Food Additives), 2011. Seventy-forth report of the Joint FAO/WHO Expert Committee on food Additives. Toxicological evaluation of certain food additives. WHO technical report series; no. 966. Available online
EFSA ANS Panel (2014) Reconsideration of the Temporary ADI and Refined Exposure Assessment for Sunset Yellow FCF (E 110). EFSA Journal, 12(7), 3765 [39 pp]. Available online