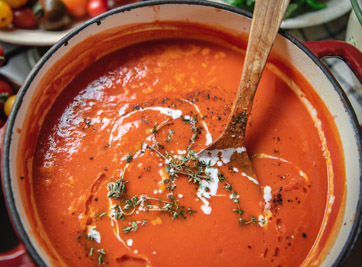 Identifiers
INS No. 160d(i-iii)
E 160d(i-iii)
EINECS No. 207-949-1
CAS No. 502-65-8
CI Natural Yellow 27
CI No. 75125
Synthetic lycopene
Lycopene, red tomato
Lycopene, Blakeslea trispora
Tomato lycopene extract
Tomato lycopene concentrate

Physical Description
Lycopene is a naturally occurring pigment found in vegetables (especially tomatoes), fruits, algae and fungi. It can also be synthesized chemically. Lycopene extract from tomato is a red pigment obtained by ethyl acetate extraction of the pulp of a non-genetically modified variety of ripe tomatoes (Lycopersicon esculentum L.) that has a high lycopene content (6%). Synthetic lycopene and lycopene from Blakeslea trispora are red crystalline powders.
Common Uses
Typical applications for lycopene extract from tomato include dairy products, non-alcoholic flavored drinks, cereal and cereal products, bread and baked goods, candies, soups, salad dressings, sauces, and spreads, providing color shades from yellow to red.
Specifications
EU Commission Regulation (EU) No 231/2012
JECFA
Codex GSFA Provisions
Lycopene synthetic, Lycopene tomato, and Lycopene Blakeslea trispora (INS Nos. 160d(i-iii)) are food additives that are included in Table 3 of the Codex General Standard for Food Additives (GSFA), and as such may be used in specified foods under the conditions of good manufacturing practices (GMP) as outlined in the Preamble of the Codex GSFA. Lycopene is also acceptable in foods conforming to the commodity Standards for Bouillons and Consommés (CS 117-1981) and Certain Canned Fruits (CS 319-2015).
Regulatory Approvals
Safety Assessment
Lycopene is a normal constituent of the human diet, and the background dietary exposure to lycopene from vegetables and fruits is up to 10 mg/person per day. The available data indicate that dietary lycopene is generally well tolerated in humans.  JECFA reconsidered the available toxicological data in 2009, including a new 28-day study, together with the dietary exposure to lycopene that occurs naturally in food and lycopene used as a food color from all sources. The Committee concluded that, based on lycopene's very low toxicity, there was no need to establish a numerical ADI.
Safety Reviews
Scientific Opinion of the Panel on Food Additives, Flavourings, Processing Aids and Materials in Contact with Food on a request from the Commission on the safety in use of lycopene as a food colour. The EFSA Journal (2008) 674, 1-12. Available online
Joint FAO/WHO Expert Committee on Food Additives. Meeting (67th: 2006 : Rome, Italy). Evaluation of certain food additives and contaminants: sixty-seventh report of the Joint FAO/WHO Expert Committee on Food Additives. (WHO technical report series; no. 940). Available online
Joint FAO/WHO Expert Committee on Food Additives. Meeting (71st : 2009 : Geneva, Switzerland). Safety evaluation of certain food additives: seventy-first meeting of the Joint FAO/WHO Expert Committee on Food Additives. (WHO technical report series; 956). Available online