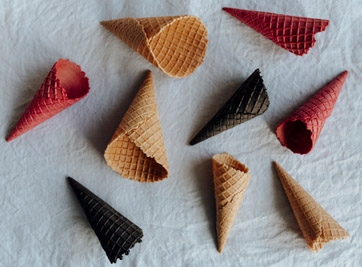 Identifiers
Synthetic Iron Oxide
Iron oxides and hydroxides
E172
Iron Oxide Black
INS No. 172(i)
CAS No. 1317-61-9
CI No. 77499
CI Pigment Black 11
Iron Oxide Red
INS No. 172(ii)
CAS No. 1309-37-1
CI No. 77491
CI Pigment Red 101 and 102
Iron Oxide Yellow
INS No. 172(iii)
CAS No. 51274-00-1
CI No. 77492
CI Pigment Yellow 42 and 43
Physical Description
Iron oxides are naturally occurring pigments, ranging from black, yellow, red and brown in color. However, commercial forms are produced by synthesis. They impart pastel shades as opposed to some of the brighter and clean shades imparted by other colors.
Common Uses
Typical applications include pet foods, confectionery, cosmetics, and pharmaceuticals.
Specifications
US FDA
JECFA
EU Commission Regulation (EU) No 231/2012
Codex GSFA Provisions
Iron oxides (INS Nos. 172(i-iii)) are added to foods and beverages at concentrations up to maximum permitted levels (MPLs) as established by the Codex Alimentarius Commission and published in the General Standard of Food Additives (GSFA). The 32 provisions are defined at the additive group level, and thus apply to the total content of the additives participating in this group: Iron oxide, black (172(i)); Iron oxide, red (172(ii)); and Iron oxide, yellow (172 (iii)).
Regulatory Approvals
Safety Assessment
JECFA last evaluated iron oxides at its 23rd meeting, noting that studies on the bioavailability of iron from these compounds suggest that ferric oxide is less available as a source of biologically active iron than are other forms of iron. A few studies on experimental animals indicate that levels of up to 10 g/kg of iron oxide in the diet do not result in adverse effects. It was also shown that rats consuming more than 50 mg/kg of body weight of iron oxide for 8 generations showed no effects on reproduction. An ADI of 0-0.5 mg/kg of body weight was established.
Safety Reviews
ANS Panel (EFSA Panel on Food Additives and Nutrient Sources added to Food), 2015. Scientific Opinion on the re-evaluation of iron oxides and hydroxides (E 172) as food additives. EFSA Journal 2015;13(12):4317, 57 pp. Available online
JECFA (1980). Toxicological evaluation of certain food additives. 23rd Report of the Joint FAO/WHO Expert Committee on Food Additives. WHO Food Additive Series No. 14. Available online