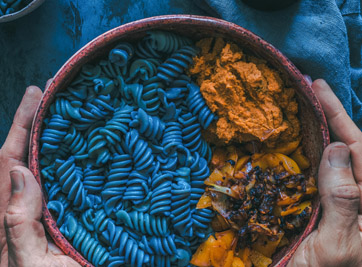 Identifiers
Indigo Carmine
FD&C Blue #2
INS No. 132
E 132
EINECS No. 212-728-8
CAS No. 860-22-0
CI Food Blue 1
CI No. 73015
Food Blue No. 2
Physical Description
Indigotine is a deep blue dye that provides a violet to blue shade in applications. The colorant is principally the disodium salt of 2-(1,3-dihydro-3- oxo-5-sulfo-2H-indol-2-ylidene)- 2,3-dihydro-2-oxo-1H-indole-5-sulfonic acid with smaller amounts of the disodium salt of 2-(1,3- dihydro-3-oxo-7-sulfo-2H-indol -2-ylidene)-2,3-dihydro-3-oxo-1H-indole-5-sulfonic acid and the sodium salt of 2-(1,3-dihydro-3-oxo-2H-indol-2-ylidene)-2,3-dihydro-3-oxo-1H-indole-5-sulfonic acid. Indigotine is water soluble. It is stable as a solid; however, aqueous solutions are not very stable and the color fades, especially when solutions are exposed to light. Fading is due to oxidation of the color to isatin-5-sulfonic acid, which subsequently oxidizes to 5-sulfo-anthranilic acid.
Common Uses
Indigotine is distinguished by its rich royal blue color, and is used for coloring foods including blueberry bagels, breakfast cereals, cakes and cupcakes, candies including chocolate, chewing gum, dairy products, decorations for baking, frozen treats, sauces and seasonings as well as pharmaceuticals.
Specifications
US FDA
JECFA (2018)
EU defined in Commission Regulation (EU) No 231/2012
Codex Provisions
Indigo Carmine is added to foods and beverages at concentrations up to a maximum permitted level (MPL) as established by the Codex Alimentarius Commission and published in the General Standard of Food Additives (GSFA). For GSFA MPLs of Indigo Carmine (132), click here.
Regulatory Approvals
Safety Assessment
Indigotine is used in China, the EU, Japan, the USA and other regions. JECFA re-evaluated indigotine at its 2018 meeting and concluded that: indigotine is poorly absorbed from the gastrointestinal
tract, has a low acute toxicity, is not genotoxic and does not show any potential for reproductive or developmental toxicity. The previous Committee identified a NOAEL of 500 mg/kg bw per day from a 2-year rat study of 1% indigotine in the diet and established an ADI of 0–5 mg/kg bw. The current Committee considered the new data that had become available since the previous evaluation as well as
previously evaluated studies. The Committee concluded that there are no reasons to revise the ADI and confirmed the ADI of 0–5 mg/kg bw. The Committee noted that the conservative dietary exposure estimate of 0.8 mg/kg bw per day (95th percentile for children and toddlers) is less than the upper limit of the ADI of 0–5 mg/kg bw established for indigotine. The Committee concluded that dietary exposure to indigotine for all age groups does not present a health concern.
Safety Reviews
U.S. Food and Drug Administration. Final Rule: Permanent listing of FD&C Blue No. 2. 48 Fed. Reg. 5260 (4 February 1983).
Evaluation of certain food additives: eighty-sixth report of the Joint FAO/WHO Expert Committee on
Food Additives. Geneva: World Health Organization and Food and Agriculture Organization of the United Nations; 2019 (WHO technical report series; no. 1014).
EFSA ANS Panel (2014) Scientific opinion on the re-evaluation of Indigo Carmine (E 132) as a food additive. EFSA Journal, 12(7), 3768 [51 pp].