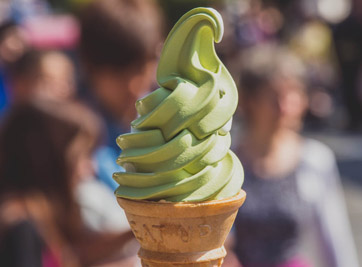 Identifiers
FD&C Green #3
INS No. 143
CAS No. 2353-45-9
CI Food Green 3
CI No. 42053
Physical Description
Fast Green FCF is a bluish green food dye that provides a dark green shade in applications. The color is principally the disodium salt of N-ethyl-N-[4- [[4-[ethyl[(3-sulfophenyl)methyl]amino]phenyl](4-hydroxy-2-sulfophenyl)methylene]-2,5-cyclohexadien-1-ylidene]-3-sulfobenzene -methanaminium hydroxide. It is soluble in water, sparingly soluble in ethanol and insoluble in vegetable oils.
Common Uses
Fast Green FCF provides a pleasing sea green color to various foods including cereal, ice cream, sherbet, drink mixers, and baked goods. It is also used in pharmaceutical products and cosmetics.
Specifications
Codex Provisions
Fast Green FCF is added to foods and beverages at concentrations up to a maximum permitted level (MPL) as established by the Codex Alimentarius Commission and published in the General Standard of Food Additives (GSFA). For GSFA MPLs of Fast Green FCF (143), click here.
Regulatory Approvals
Safety Assessment
Fast Green FCF is a permitted as a color in Japan, the USA, and other regions. JECFA re-evaluated the color in 2017 and concluded that Fast Green FCF is not carcinogenic. Newly available evidence indicates that there is no concern with respect to genotoxicity of Fast Green FCF. The ADI of 0–25 mg/kg bw established previously by the Committee was based on a long-term rat dietary study in which a NOAEL of 5% Fast Green FCF (equivalent to 2500 mg/ kg bw per day), the highest concentration tested, was identified (Hansen et al., 1966). In its re-evaluation, the Committee concluded that the new data that had become available since the previous evaluation gave no reason to revise the ADI and confirmed
the ADI of 0–25 mg/kg bw. The Committee noted that the conservative dietary exposure estimate for Fast Green FCF of 12 mg/kg bw per day (95th percentile for adolescents) was below the upper bound of the ADI. The Committee concluded that dietary exposures to Fast Green FCF for adolescents and all other age groups do not present a health concern.
Safety Reviews
Joint FAO/WHO Expert Committee on Food Additives (2017). Evaluation of certain food additives. WHO Tech. Rept. Ser. No.1007. Available online.
U.S. Food and Drug Administration. Final Rule: Permanent listing of FD&C Green No. 3. 47 Fed. Reg. 52140 (19 November 1982).