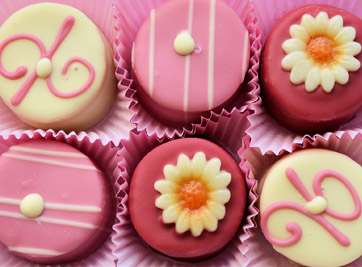 Identifiers
FD&C Red No. 3
INS No. 127
E 127
EINECS No. 240-474-8
CAS No. 16423-68-0
CI Food Red 14
CI No. 45430
Physical Description
Erythrosine is principally the monohydrate of 9 (o-carboxyphenyl)-6-hydroxy2,4,5,7-tetraiodo-3H-xanthen-3-one, disodium salt, with smaller amounts of lower imidinated fluoresceins. Erythrosine is a bluish pink dye that lends a pink shade to applications.
Common Uses
Erythrosine provides a watermelon-red color when used in foods and pharmaceuticals. Erythrosine is used to color dietary supplements, confections, beverages, cereals, ice cream cones, frozen dairy desserts, popsicles, frostings and icings, baked goods, dried fruit, frozen breakfast foods, and processed foods (fish, meat and egg products).
Specifications
US FDA
JECFA (2018)
EU Commission Regulation (EU) No 231/2012
Codex GSFA Provisions
Erythrosine is added to foods at concentrations up to a maximum permitted level (MPL) in 6 food categories, including candied fruit, chewing gum, decorations, toppings (non-fruit) and sweet sauces, fermented vegetable and seaweed products, processed comminuted meat, poultry, and game products as well as in whole pieces or cuts, as established by the Codex Alimentarius Commission and published in the General Standard of Food Additives (GSFA).
Regulatory Approvals
Safety Assessment
Erythrosine is a xanthene dye permited as a food color in China, the EU, the USA and other regions. Exposure to erythrosine from its use as a food color additive is generally well below the established ADI of 0.1 mg/kg bw per day. The most conservative estimated intake of 3.2 mg/person per day (0.053 mg/kg bw per day) for the general population is approximately 50% of the established ADI. Therefore, current use patterns do not present safety concern for consumers.
During its recent evaluation, JECFA indicated that the newly available evidence indicates that there are no concerns with respect to genotoxicity and reproductive and developmental toxicity of erythrosine. The previously established ADI of 0–0.1 mg/kg bw is based on a NOAEL of 60 mg per person per day (equivalent to 1 mg/kg bw per day for a 60 kg person) identified in a human study, with a default uncertainty factor of 10.

Safety Reviews
EFSA Panel on Food Additives and Nutrient Sources added to Food (ANS); Scientific Opinion on the reevaluation of Erythrosine (E 127) as a food additive. EFSA Journal 2011;9(1):1854. [46 pp.]. doi:10.2903/j.efsa.2011.1854. Available online
Joint FAO/WHO Expert Committee on Food Additives (2018).  Evaluation of certain food additives.  WHO Tech. Rept. Ser. No. 1014.  Available online