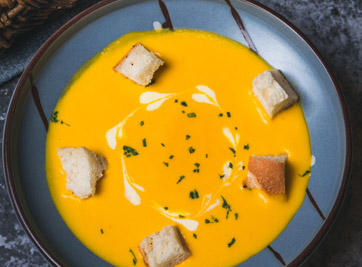 Identifiers
INS No 100(i-ii)
Curcumin
Turmeric
Turmeric Oleoresin
Turmeric Yellow
CI Natural Yellow 3
Color Index No 75300
E 100
Physical Description
The food color curcumin (turmeric yellow) is obtained by solvent extraction of turmeric, i.e. the ground rhizomes of Curcuma longa L., with purification of the resultant extract by crystallization. innaeus plant, a member of the ginger family. The commercial product consists essentially of curcumins: the coloring principle (1,7-bis(4-hydroxy3-methoxyphenyl) hepta-1,6-diene-3,5-dione) and its desmethoxy and bisdesmethoxy derivatives in varying proportions.
Common Uses
Turmeric, turmeric oleoresin, and curcumin are yellow color additives that are used in condiments such as pickles, mustard, seasonings, relish, hot peppers, snacks, baked goods, sauces, salad dressing, oils, margarine, frozen desserts, cheeses, pies, cakes, candies, beverages, frosting, cereal, snacks, fruit preparation, convenient food, meat, seafood and soups.
Specifications
US FDA:
EU Commission Regulation (EU) No 231/2012
Codex GSFA Provisions
The Codex Alimentarius Commission has finalized authorization of curcumin use in six food categories, including flavored fluid milk drinks, soups and broths, confectionery, chewing gum, pre-cooked pastas and noodles and like products, and decorations, toppings (non-fruit) and sweet sauces  as noted in the General Standard of Food Additives (GSFA). A large number of other applications of curcumin as a color additive in foods and beverages have been proposed and are pending authorization, following completion of the review and comment process.
Regulatory Approvals
Safety Assessment
JECFA evaluated curcumin most recently at its 61st meeting, noting that in evaluatng a new multigeneration study in rats that were fed with curcumin for periods of up to 24 weeks, dcreased weight gain in the F2 generation was observed at doses equal to 960–1100mg/kgbw per day of curcumin; the NOEL was 250–320mg/kgbw per day. Taking into account all of the data evaluated previously, the Committee withdrew the temporary designation and allocated an ADI of 0–3mg/kgbw for curcumin, based on the NOEL of 250–320mg/kgbw per day in the multigeneration study in rats, and the application of a safety factor of 100.
Safety Reviews
JECFA (1986). Evaluation of certain food additives and contaminants. WHO Technical Report Series No. 751. Thirtieth report of the Joint FAO/WHO Expert Committee on Food Additives. Available online
JECFA (1990). Evaluation of certain food additives and contaminants. WHO Technical Report Series No. 789. Thirty-fifth meeting of the Joint FAO/WHO Expert Committee on Food Additives. Available online
JECFA (2004). Evaluation of certain food additives and contaminants. WHO Technical Report Series No. 922. Sixty-first meeting of the Joint FAO/WHO Expert Committee on Food Additives. Available online
EFSA Panel on Food Additives and Nutrient Sources added to Food (ANS); Scientific Opinion on the re-evaluation of curcumin (E 100) as a food additive. EFSA Journal 2010; 8(9):1679. [46 pp.]. Available online