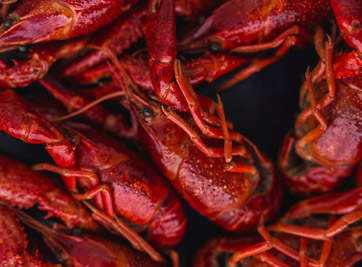 Identifiers
Cochineal extract
Carmine
Cochineal
Carminic acid
Cochineal carmine
INS No. 120
E 120
CI Natural Red 4
CI No. 75470
EINECS Nos.
215-680-6 (Cochineal)
215-023-3 (Carminic acid)
215-724-4 (Carmines)
CAS Nos.
1343-78-8 (Cochineal)
1260-17-9 (Carminic acid)
1390-65-4 (Carmines)
Physical Description
Cochineal is obtained from the dried bodies of the gravid female insect Coccus cacti; it has been used as a food and textile dye since ancient times. Carmine is a dark red color additive obtained via aqueous extraction of cochineal. Carmine consists of an aluminum or calcium-aluminum lake on an aluminum hydroxide substrate of carminic acid, the coloring principle of cochineal. Cochineal and Carmine both contain the red pigment, Carminic acid that presents excellent stability against heat and light. Carminic acid is a hydroxyanthraquinone linked to a glucose unit and it comprises approximately 10% of cochineal and 2-4% of its extract. Commercial preparations of carmine contain 20-50% carminic acid. Cochineal is an aqueous extract providing color shades from orange to red and is generally used in low pH applications. It is insoluble in water, glycerine, and propylene glycol. It is stable in light and to oxidation but not at varying pH or microbiological attack. Carminic acid is susceptible to oxidation. Carminic acid is a stable pigment that is soluble in water. Cochineal is soluble in alcohol. Carmine is a water-dispersible powder which is insoluble in alcohol and oil. It is readily attached to proteins thus it has been successfully used to color milk-based products.
Common Uses
Carmine and cochineal can be used for coloring meat products, seafood, confectionery, alcoholic beverages and soft drinks, cider, vinegar, yogurt, baked goods, jams, jellies, dairy products, snack food, convenient food, fruit preparation, seasonings, pharmaceuticals, and cosmetics.
Specifications for Food Use
US FDA
JECFA
EU Commission Regulation (EU) 2018/1472
Codex GSFA Provisions
Carmines (INS No 120) are added to foods and beverages at concentrations up to a maximum permitted level (MPL) in more than 70 food categories as established by the Codex Alimentarius Commission and published in the General Standard of Food Additives (GSFA).
Regulatory Approvals
Safety Assessment
A weight of evidence analysis indicates that carminic acid/cochineal extract is not genotoxic. Cochineal did not cause chromosomal damage in human cells. A long-term toxicity study revealed that carmine orally administered at doses of 50, 150, and 500 mg/kg/day for up to 109 weeks produced no adverse effects in rats or their offspring. No adverse effects occurred when rats were fed carmine for three generations at doses of 500 mg/kg/day. Carminic acid/cochineal extract was not carcinogenic when fed to mice over a 2-year period at doses up to 6% of the diet. Carmine was not embryotoxic/teratogenic to the offspring of fertile rats continuously exposed to oral doses of up to 500 mg/kg/day throughout all phases of mating, gestation, lactation, weaning and adult life over three successive generations.
Safety Reviews
JECFA (2001). 55th Report of the JECFA. Evaluation of Certain Food Additives and Contaminants. WHO Tech. Report. Series. No. 901, p. 10. Available online
Twenty-first Report of the Joint FAO/WHO Expert Committee on Food Additives, Geneva, 1977, WHO Technical Report Series No. 617. Available online
EFSA ANS Panel (EFSA Panel on Food Additives and Nutrient Sources added to Food), 2015. Scientific Opinion on the re-evaluation of cochineal, carminic acid, carmines (E 120) as a food additive. EFSA Journal 2015;13(11):4288, 66 pp. Available online