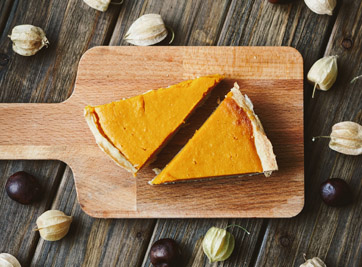 Identifiers
Annatto
Annatto extracts, bixin-based
Annatto extracts, norbixin-based
Annatto bixin
Annatto norbixin
INS No. 160b(i-ii)
E160b(i-ii)
CAS No. 1393-63-1
CI Natural Orange 4
CI No. 75120
Physical Description
Annatto extracts are obtained from the outer layer of the seeds of the tropical tree Bixa orellana. The principal pigment is cis-bixin, which is contained in the resinous coating of the seed itself, producing color ranges from light yellow to orange. Processing primarily entails the removal of the pigment by abrasion of the seeds in an appropriate suspending agent. Traditionally, water or vegetable oil is used for this purpose, although solvent extraction is also employed to produce annatto extracts with a higher content of pigment. Microcrystalline bixin products of 80–97% purity have been developed in response to the need for more concentrated annatto extracts.
Common Uses
Annatto extracts have been used for over two centuries as a food colors, especially in cheese, and various types are now used in a wide range of food products, including butter, margarine, salad dressing, ice cream and other frozen desserts, confectionery, egg products, fish and fish products, meat products, cereals, cakes, beverages, soup mixes, fruit products, snacks, bakery products, spices and seasonings, and sausage casings, along with drugs and cosmetics.
Specifications
US FDA

JECFA
EU defined in Commission Regulation (EU) No 23/2012
Codex GSFA Provisions
The Codex Alimentarius Commission has finalized authorization of Annatto extracts, bixin-based (160b(i)) and Annatto extracts, norbixin-based (160b(ii)) for use in chewing gum, decorations, toppings (non-fruit) and sweet sauces, flavored fluid milk drinks, and confectionery. Annatto extracts, bixin-based is also approved for use in butter and  smoked, dried, fermented and/or salted fish and fish products, including mollusks, crustaceans, and echinoderms, while annatto extracts, norbixin-based is allowed in ripened cheese.  A large number of other applications of Annatto extracts, both bixin and norbixin-based as a color additive in foods and beverages have been proposed and are pending authorization, following completion of the review and comments process.
Regulatory Approvals
Safety Reviews
JECFA (2006). Safety Evaluation of Certain Additives and Contaminants. WHO Food Add. Series No. 58. Sixty-seventh meeting of the Joint WHO/FAO Expert Committee on Food Additives. Available online
Safety evaluation of certain food additives and contaminants (2003). Prepared by the 61st meeting of the JECFA. WHO food additives series 52. Available online
EFSA ANS Panel (EFSA Panel on Food Additives and Nutrient Sources added to Food), 2016. Scientific opinion on the safety of annatto extracts (E 160b) as a food additive. EFSA Journal 2016;14(8):4544, 87 pp. Available online
EFSA FAF Panel (EFSA Panel on Food Additives and Flavourings), 2019. Scientific Opinion on the safety of annatto E and the exposure to the annatto coloring principles bixin and norbixin (E 160b) when used as a food additive. EFSA Journal 2019;17(3):5626, 28 pp. Available online