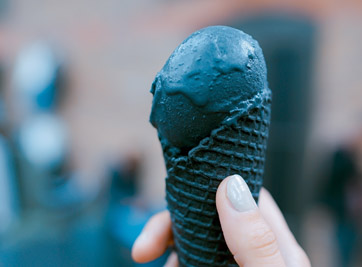 Identifiers
INS No. 153
E 153
EINECS No. 231-153-3
CAS 7440-44-0
Vegetable black
Activated vegetable carbon
Carbon black (vegetable sources)
Physical Description
As the name suggests, Vegetable Carbon is made from fine particles of carbonized vegetable material. Carbon Black powder is very fine and produces a lot of dust causing cleaning problems. Color shades range from grey to black, depending on the dosage rate used.
Vegetable carbon is rarely used alone in food because it provides an intense black color that is suitable only for particular varieties of confectionery, ices or desserts. However, it can be used as a shading agent with other colors, providing increased color intensity.
Common Uses
Typical applications include confectionery, bakery products, decorations, cheese coating, black caviar substitute, cosmetics, and pharmaceuticals.
Specifications
EU defined in Commission Regulation (EU) No 23/2012
JECFA
Regulatory Approvals
Safety Reviews
EFSA Panel on Food Additives and Nutrient Sources added to Food (ANS); Scientific Opinion on the re-evaluation of vegetable carbon (E 153) as a food additive. EFSA Journal 2012;10(4):2592. [34 pp.] Available online
JECFA (1987). Evaluation of certain food additives and contaminants. Thirty -first report of the Joint FAO/WHO Expert Committee on Food Additives. Technical Report Series No. 759. Available online