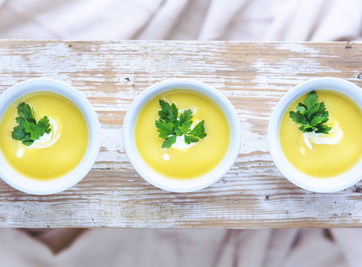 Identifiers
INS No. 104
E 104
EINECS No. 305-897-5
CAS No. 80583-08-0
CI Food Yellow 13
CI No. 47005
C.I. Acid Yellow 3
Physical Description
Quinoline yellow is a bright greenish-yellow, water soluble dye.  Quinoline Yellow is a mixture of the sodium salts of the mono- and disulfonic acids of 2-[2-quinolinyl]-1H-indene-1,3 [2H]-dione consisting principally of the sodium salt hydro-1,3-dioxo-1H-indene-2-yl]-6-quinolinesulfonic acid and 2-[2,3-dihydro-1,3-dioxo-1H-indene-2yl]-8-quinolinesulfonic acid with lesser amounts of the disodium salts of the disulfonic acids of  2-[2-quinolinyl]-1H-indene-1,3[2H]-dione.
Common Uses
Typical applications for quinoline yellow include beverages, confectionery, meat, bakery, dairy fats and oil, seafood, snacks, dry mixes and seasonings, fruit preparation, convenient food, flavors, cosmetics and pharmaceuticals.
Specifications for Food Use
JECFA (2016)
EU Commission Regulation (EU) No 231/2012
Codex GSFA Provisions
The Codex Alimentarius Commission has finalized authorization of quinoline yellow (INS No. 104) for use in 7 food categories, including soups and broths, decorations, toppings (non-fruit) and sweet sauces, chewing gum, hard candy, soft candy, nougats and marzipans, and flavored fluid milk drinks, as noted in the General Standard of Food Additives (GSFA). Many other applications of quinoline yellow as a color additive in foods and beverages have been proposed and are pending authorization, following completion of the review and comments process.
Regulatory Approvals
Safety Assessment
Quinoline Yellow is a synthetic color used in food, beverages, drugs, and cosmetics. While not approved for food use in the US, it is permitted in other countries for use in food, including the EU, Australia and New Zealand. JECFA re-evaluted quinoline yellow in 2017, concluding that the existing data on quinoline yellow provide a sufficient basis on which to establish an ADI for quinoline yellow. The two related long-term studies on D&C Yellow No. 10 in the rat gave the lowest NOAEL of 0.5% in the diet (equivalent to 250 mg/kg bw per day), based on effects on body weight and organ weights at higher dose levels. Using this NOAEL and an uncertainty factor of 100, the Committee established an ADI of 0–3 mg/kg bw (rounded value) for quinoline yellow. The Committee noted that the range of estimated dietary exposures to quinoline yellow for children based on analytical, reported and/or industry use data, including the conservative estimate by EFSA, was below the upper bound of the ADI (0.3–10%). The Committee concluded that dietary exposure to quinoline yellow for children and all other age groups does not present a health concern.
Safety Reviews
EFSA Panel on Food Additives and Nutrient Sources added to Food (ANS)Food Additives and Nutrient Sources added to food; Scientific Opinion on the re-evaluation of Quinoline Yellow. EFSA Journal 2009; 7(11):1329. [40 pp.]. Available online
Safety evaluation of certain food additives: prepared by the Eighty-second meeting of the Joint FAO/WHO Expert Committee on Food Additives (JECFA). Geneva: World Health Organization; 2017 (WHO Food Additives Series, No. 73) Available online