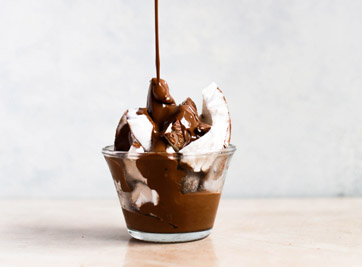 Identifiers
INS No. 155
E 155
EINECS No. 224-924-0
CAS No. 4553-89-3
CI Food Brown 3
CI No. 20285
Chocolate Brown HT
Physical Description
Brown HT is a bis azo-dye food coloring consisting of reddish-brown powder or granules. The color provides a blackish brown shade in applications that is like cocoa or caramel.
Common Uses
Typical applications include confectionery, bakery, dairy fats and oil, meat, seafood, snacks, dry mixes and seasonings, fruit preparation, convenient food, and flavors.
Specifications
JECFA
EU Commission Regulation (EU) No 231/2012
Codex GSFA Provisions
The Codex Alimentarius Commission has finalized authorization of brown HT (INS No 155) for use in 4 food categories, including chewing gum, confectionery including hard and soft candy, nougats, etc., decorations, toppings (non-fruit) and sweet sauces, and flavored fluid milk drinks, as noted in the General Standard of Food Additives. Many other applications of brown HT as a color additive in foods and beverages have been proposed and are pending authorization, following completion of the review and comments process.
Regulatory Approvals
Safety Assessment
JECFA reviewed brown HT at its 28th meeting, where it considered the results of multigeneration reproduction, teratological, and metabolic studies, as well as a special study on pigment deposition in the kidney and mesenteric lymph nodes. An ADI of 0-1.5 mg/kg of body weight was established, on the basis of a no-effect level of 0.1%, equivalent to 150 mg/kg of body weight, in the long-term feeding study in mice.
Safety Reviews
EFSA Panel on Food Additives and Nutrient Sources (ANS); Scientific Opinion on the reevaluation of Brown HT (E 155) as a food additive. EFSA Journal 2010; 8(3):1536. [32 pp.]. Available online.
JECFA, 1984. Joint FAO/WHO Expert Committee on Food Additives. Toxicological evaluation of certain food additives and contaminants. WHO Food Additives Series, No. 19. Available online